Beskrivelse
Kraftfull, realistisk lyd og de nyeste funksjonene
I sammenligning med de tidligere modeller (PSR-A300) har det skjedd store forbedringer på samplingene av lydene i PSR-A350. Dessuten har vi oppgradert det innebygde høyttalersystemet, for å oppnå enda bedre lyd. Resultatet er en markant forbedret lyd og spilleopplevelse.
En stor bredde av høykvalitetslyder, -styles og arpeggios med realistisk orientalsk innehold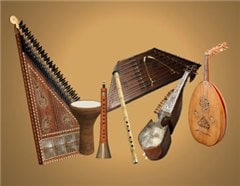 The PSR-A350 features a wide variety of high-quality Voices, Styles and Arpeggiators including realistic Oriental content inherited from high-end models such as the renowned PSR-A2000/3000.
Arabic, Maghreb, Khaligi, Iranian, Turkish and Greek content is all available to the player.
A total of 613 high-quality instrument Voices including
– 1 Sweet! Voice, 3 Cool! Voices and 3 Dynamic Voices
– 45 Oriental Voices and 19 Oriental Drum Kits
210 accompaniments Styles including 115 Oriental Styles (26 Arabic, 25 Khaligi, 11 Magherebi, 23 Iranian, 20 Turkish and 10 Greek Styles)
150 Arpeggiators (including 5 Oriental)
For more details, please refer to the details on Owner's Manual.
Skalainnstillingsknapper med memory banks og Pitch Bend-hjul


The scale setting buttons allow you to create custom scale tuning by altering each of the 12 scale steps. You can change the scale settings at any time, even when you are playing.
The scale tune memory function allows you to store four of your own scales and recall them instantly whenever you wish.
The pitch bend wheel allows you to control pitch in real-time to add realistic expression to your playing.
USB to Host & 10 user banks til Styles

You can connect the keyboard to your PC via the USB to Host terminal to transfer data. 10 Style user banks allow you to store and use external Styles.
You can also connect an iPhone, iPod touch or iPad to experience a new dimension of MIDI control with apps. (**)
**For iOS device connection, refer to the «iPhone/iPad Connection Manual»
Audio AUX IN & Melody Suppressor Funksjon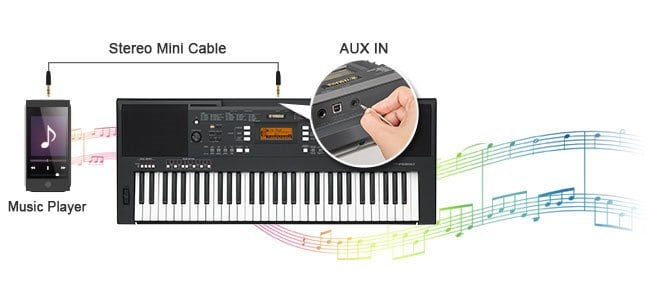 Koble til en ekstern lydspiller til AUX-inngangen og spill til favorittlåtene dine. Avansert vokal/melodi-funksjonen demper vokalen og melodien på den opprinnelige innspillingen slik at du kan fylle den plassen selv. *Avhengig av sangen, kan det være at styrken på melodidelen ikke påvirkes.
***Depending on the song, the volume of the melody part may not be affected.
Bruk Master EQ for å justere lyden
PSR-A350 er utstyrt med Master EQ som gjør at du kan justere nyansene av lydene med innstillinger som Bright og Boost for å gjøre det enklere å få akkurat den lyden du ønsker.
Useful functions for learning and practice
The 5 song/2 track recorder helps to achieve efficient practice sessions while Duo mode allows two people to play together on identical keyboard sections. This can be very useful when performing live or during lessons.
Undervisningsfunksjonen som tilbyr totalt ni steg-tre for venstre hånd, tre for høyre, og tre for begge hender, hjelper nybegynnere å øve sangene som er lagret i instrumentet. Det er en note funksjon som gjør det morsomt å øve og forbedre, og en «»Waiting»» funksjon som justerer tempoet etter personen som spiller; pauser akkompagnementet til de riktige notene er spillet.
9 Registration Memories

Regis