Beskrivelse
PSR-E360 blends into your living space beautifully and will become a part of your family. Find the perfect colour that suits your lifestyle and interior design, and get ready to enjoy!
Black
NEW
From natural warm interiors to urban designed cool furniture, this chic modern black finish fits perfectly with any room.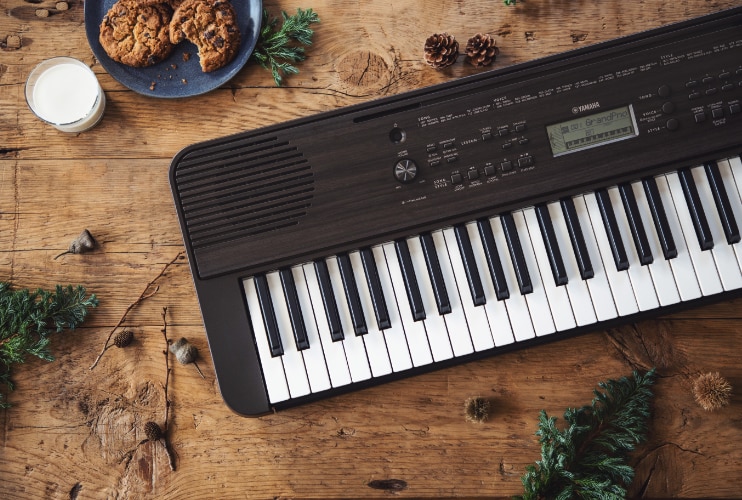 Dark Walnut
The walnut wood finish on the front panel gives a calm and gentle touch to this model. Matches perfectly to the greens in your house.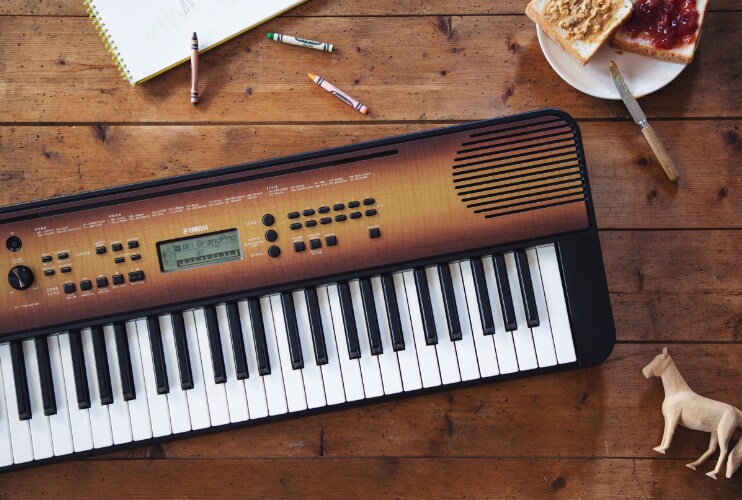 Maple
The maple model's warmth will give the perfect accent to your interior decor and lighten up the whole house.
Touch-sensitive keys
Touch-sensitive keys allow expressive dynamic control
Play the keys heavily and you'll get louder tones, or play softly to achieve quieter sounds. The touch-sensitive keyboard will accurately reflect every nuance of your playing, making your performances musically expressive.
Sound
The better an instrument sounds, the more it inspires us.
Yamaha has a proud history of manufacturing just about every kind of musical instrument. When it comes to reproducing the sound of these instruments in a keyboard, the results are detailed and high-quality.
Lesson
On-board lessons support learning to play
3-step lesson – Listening, Timing and Waiting modes are available for each hand, or both hands together. Lessons use the on-board Songs to help build your skills. Then, use the simple recording function to capture and listen to your performance.
Song Book
Free downloadable sheet music for standards popular around the world
Sheet music for the onboard Songs are available for free as a Song Book. Use this together with the lesson functions to master standards that are popular around the world, and learn how to play with chords quickly even if you don't have any experience playing the keyboard.
Auto accompaniment Styles
Play with an auto accompaniment, and enjoy arrangements in your favorite genres.
Just play a chord and the auto accompaniment will start, providing accompaniment with any one of 130 of Styles that you can choose from an extensive range of music genres. You can even use the auto accompaniment to enjoy playing your favorite songs arranged into different genres such as jazz or bossa nova. The downloadable Song Book details the best songs to play with the Style function, so that you can enjoy these arrangements from day one.
Connection
Play along with your favorite songs
Connect your portable music player to hear your favorite music through the instrument's speakers. Play along and you feel like you've joined the band!